Hello all! I hope you all had a very good Memorial day weekend. We had a great busy yet relaxing weekend. Got some sun, spent time with my brother and sister in law's family, grilled out, and just enjoyed each other. It was wonderful!
I have been cleaning today and planned this easy roast recipe for dinner tonight. It is super easy and super tasty! I'm not sure where I saw this recipe at or if I just happened to throw it together but its my favorite.
*Just a note about roast meat: I like to get the London broil cut roasts that Bilo sells. They put it buy 1 get 1 free at least once a month lately so I can get 2 good sized roasts for between $10-15. I usually by 4 to stock up a little and I use them for other meals. They are not quite as tender as regular roast meat but they are still really tasty and get tender in the crockpot.
I apologize in advance for the terrible cell phone pictures. My digital camera is dead most of the time so I had to use my cell phone.
First gather your ingredients. You will need: a good sized roast, baby carrots, washed and quartered red or regular potatoes, a box of onion powdered soup mix(contains 2-3 envelopes depending on the store you use), and either water or beef broth. You will also need a crockpot. I usually just use the whole bag of carrots and eye ball the amount of potatoes.
Start by placing your roast in the bottom of your crockpot. Place the carrots and quartered potatoes on top then sprinkle 2 packs of the onion soup mix all over the top. I usually buy the onion soup mix from Aldi so it only has 2 packs but the ones at Walmart usually have 3. You could put the extra package in there and it would be even more flavorful.
Measure out 1 1/2 cups water or beef broth. Pour it on top over all the powdered onion soup. I usually just use water since I don't keep beef broth on hand. The beef broth just adds more flavor but I don't miss it.
Put your crockpot lid on top. I usally start mine around lunch time so I place it on high. Usually on high it takes 4-5 hours. If you want to start it in the morning, place it on low for 6-8 hours.
Enjoy! This is one of my favorite and easiest meals! It's a nice easy meal to throw together before church on Sunday morning that will have your house smelling incredibly wonderful by the time you get home.
Thanks for stopping by! Enjoy your evening.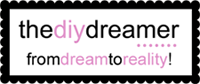 http://tatertotsandjello.com/2012/06/weekend-wrap-up-party-and-mod-podge-rocks-book-and-product-giveaway.html